Discount Locksmith LLC, a mobile locksmith services company, opened a new office and is now providing automotive, residential and commercial lock & key service in the Greater Tucson area.
TUCSON, Ariz. – May 24, 2017 – PRLog — Discount Locksmith LLC, a mobile locksmith company based out of Mesa, Arizona, has announced they have opened an office on East Broadway Blvd in Tucson and are now offering auto, home and business locksmith services throughout the Greater Tucson area. The company, which started offering their discounted locksmith rates in January of 2016, has rapidly grown throughout the last year in Arizona. Discount Locksmith LLC has partnered with some highly experienced and professional locksmith service providers in the area and are excited to offer their alternative business pricing model and promotions to customers in the area. With the expansion of their service and the addition of more mobile locksmith technicians they are now able to offer 24 hour, seven day a week service to Tucson.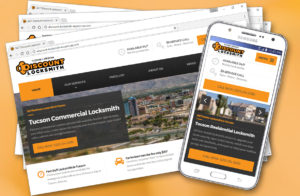 "What separates Discount Locksmith from most other locksmith service providers is our clear, up-front locksmith pricing business model." says Jerry, Director of Marketing for Discount Locksmith. "Not only does Discount Locksmith offer internet special pricing with huge discounts of over 50% off regular locksmith rates, we publish a starting price list of our locksmith services on our website so that customers know exactly how much they are going to pay for their service with a clear breakdown of the costs."
Price-conscious consumers appreciate this up-front business model that Discount Locksmith offers where they can get a listing of fees and starting costs for different locksmith services listed directly on the company website. Once a technician visits the customer and see what needs to be done, the customers are then provided with a written quote before any work begins. Due to the wide variation of makes and models of vehicles, locks, and hardware on home doors and business, there lot's of considerations that come into play that can affect costs of the service being provided. Knowing starting prices and then receiving a written quote directly from the technician helps ensure that customers are aware of exactly what service and work will be performed and exactly what they're going to pay beforehand.
Discount Locksmith LLC is currently expanding their discount locksmith service nationwide and is actively seeking new locksmith partners across the US. If you are an existing locksmith technician interested in becoming a Discount Locksmith partner you are encouraged to contact them by phone or through their website for more information.
For more information about Discount Locksmith LLC and specifically their new location and 24 hour service offerings in Tucson you can visit them or call:
Discount Locksmith LLC
2030 E Broadway Blvd
Suite #28
Tucson, AZ 85719
Phone: (520) 214-2030
Website: http://discount-locksmith-tucson-az.com
About Discount Locksmith, LLC
Discount Locksmith's corporate office is located in Mesa, AZ. All jobs are performed by technicians who are independent contractors. Limited warranty on parts may be provided by the technician. Discounted prices listed on the website available for customers who share on social media prior to the time of service. Customers who do not share on social media page prior to receiving service may be charged regular prices which may be much higher than listed discount prices. Visit the website or call and talk to a representative for more information.